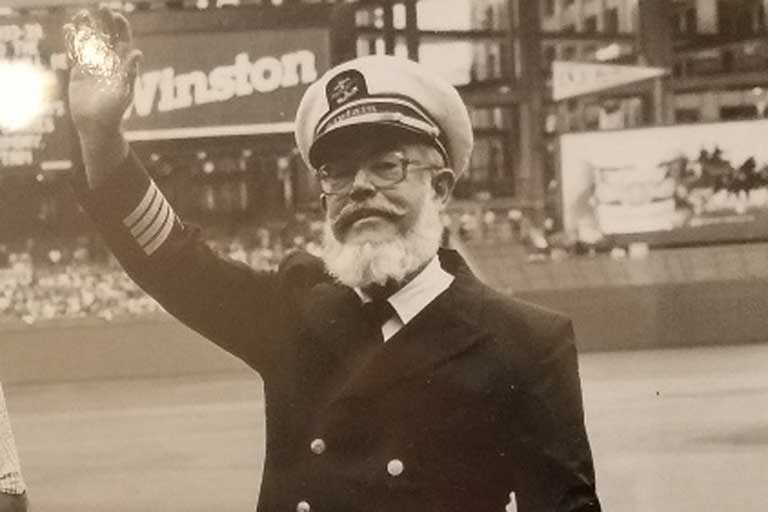 Don Summers grew up in Mexico, Missouri. His first job was at the local newspaper, The Mexico Ledger, in the printing department before he was drafted in the Navy.
"The only water in Mexico, Missouri, was a well, so I couldn't swim a lick," said Don.
Still, he went into the Navy and ran Higgins boats, also called Landing Craft Vehicle Personnel (LCVP) boats, created by Andrew Higgins. These boats were made of African mahogany and could go all the way up on the shore to be unloaded. Dwight D. Eisenhower declared that Andrew Higgins' boats were responsible for winning the war.
"These boats were fantastic – ugly looking – but they swam like fish," said Don.
He made five landings to shore in these boats while he was in the Navy.
After getting out of the Navy and returning home to his job at the newspaper, someone suggested that he use his talents with boats on the Mississippi River. Don went to St. Louis and fell in love with the riverfront. He got a job on a riverboat, the SS Admiral, and became captain.
He was captain of the Admiral in St. Louis for 10 years before he became captain of the SS President in New Orleans for another 10 years.
The riverboats in St. Louis and New Orleans were the hot spot for dancing, eating and partying. "Bob Kuban and the In-Men" was a big-time band during those days that would perform frequently on the Admiral.
"Anybody that loved to dance and lived in this area came to the Admiral because we always had a top-notch band," said Don.
Sometimes when the partying got out of hand, people would end up in the boat's holding cell.
"You had bands playing, people eating like mad and people drinking like mad," said Don of the party scene on the SS Admiral. "We had some wild happenings down there."
It wasn't always a party though. There was one day that Don was steering the steamship, SS President, when a storm blew in.
"Those riverboats are in shallow water, and they're big and they're long, so the wind can get to playing with you," said Don.
Normally, the captain would turn the boat around between fleets of barges on the river, but when the time came to turn around and go back, Don realized that it would be dangerous because the heavy wind could blow them right into the barges.
He said to his fellow captain, "Captain Vern, can I go on up the river another couple of miles past that last fleet where I've got the whole wide river to turn?"
So he went up the river to turn around, and the wind was blowing so hard that they came within 50 yards of the shore.
"That was the spookiest thing," said Don. "That storm was something else."
Perhaps it was Don's inability to swim that made him such a good captain. One day, a friend of Don's came on the boat and brought his wife. His friend told his wife that Don couldn't swim.
"Her eyes got as big as footballs," said Don. "But I told her that I can't swim, and that's why I steer this boat so carefully so that nothing will ever happen to make me have to try to swim."
After working as the captain of the SS President, Don worked for the state of Louisiana running the ferry boats across the Mississippi River for 10 years.
Don had other talents besides steering boats. He joined a previously all-female jazz band called "Some Like it Hot" because they didn't have a female tuba player.
He also volunteered at the World War II museum in New Orleans for two years, six days a week, helping build a Higgins boat. It was here that Don fell and broke his back in 2014 and went to rehab.
"When I broke my back, I lost my sense of balance," said Don.
The doctor thought Don would never walk again. After rehabilitation, he was able to walk with a walker and some without.
He moved to Life Care Center of Florissant, Missouri, to be closer to family after suffering a stroke earlier this year. After a few weeks of rehab, he was able to move into The Bridge at Florissant. Don now enjoys telling his numerous adventures to his neighbors and staff at his new home.
"I've worked on so many boats, and I still can't swim a lick today," said Don.