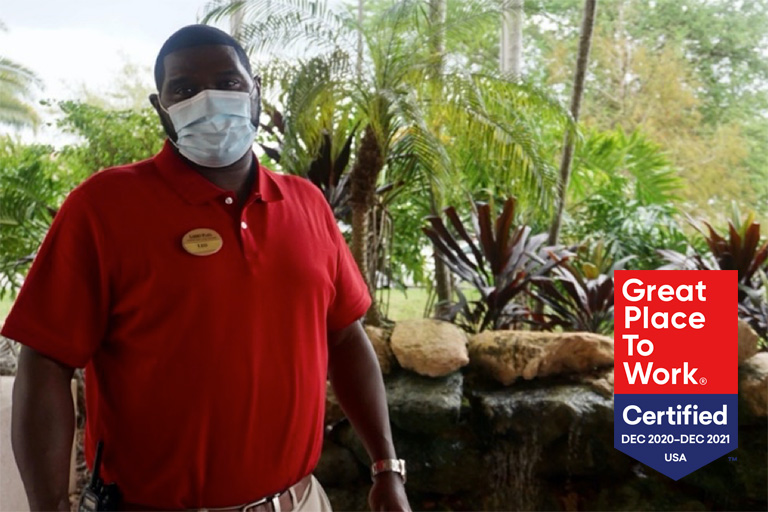 We are excited to announce our 2020 Annual Going the Extra Mile Winner for Century Park Associates. Leo recently celebrated eleven years with Garden Plaza at Inverrary where he serves as their head of security. This past year was difficult and brought many challenges for all our teams across the country. Leo's community was no exception and he continuously showed he would step-up and go the extra mile whenever and wherever possible.
Many months ago, while Leo was working at the community, he heard some commotion outside and immediately went to investigate. He quickly discovered the source of the noise and saw that a woman who had been driving by had wrecked her car into the building. He stepped right into action and began to pull her from the car through the window. The women was critically injured and she begged him not to leave her. He reassured her and remained by her side until the paramedics arrived. His heroic act inspired us all.
Leo shows similar acts of heroism every day, both big and small. "The goal of my job is to serve the residents. If the residents are happy, then I am happy", he says. "No matter what it is they need, it is our duty to go out of our way to do it. For many, we are the last person they will be around, that's why I feel so connected to them. They've come here to relax and it's my job to help them do so." Leo says he has a deep connection with the residents, their family members, and he even remains in touch with past residents' families as well. "This is not about the money, you have to have the heart and the mindset to be here, the residents deserve that."
When he is not working, Leo enjoys spending his spare time with his family. As a father of 3 children, ranging from ages six years to twenty years, they keep his heart full of love and are a very close knit family.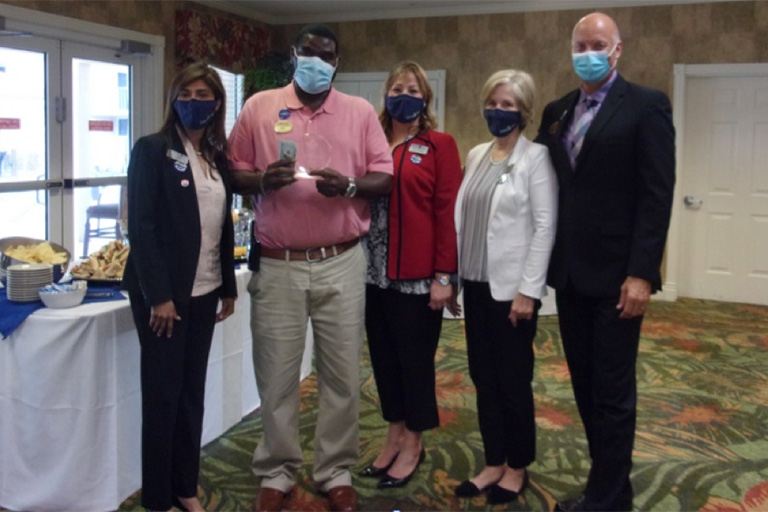 As the company winner for 2020, Leo was presented with a custom-made plaque and $1,000. Our Chief Operating Officer, Esmerelda Lee and the Regional Leadership team joined to celebrate with Leo, his family and the community. Sr. Regional Director of Operations for the Southeast, Shay Sorgen, states, "Leo is a gentle, kindred spirit with a caregiver's heart. Sacrificing self to service others, we are so blessed to have Leo as part of the Century Park Family. It is always a pleasure to visit Garden Plaza at Inverrary knowing I will be greeted with a big smile from Leo. Leo is a treasured associate that makes a difference in the lives of the associates and residents that call Garden Plaza at Inverrary their home."
"Leo, your story inspires us all to live life willing to lay down our lives for others. Your Century Park Family is grateful for you and your dedication on and off the clock", said Chief Operating Officer, Esmerelda Lee.
We want to thank Leo for all he has done to make us Century Park Strong, as well as thank all of our wonderful associates who continue to make us a Great Place to Work!