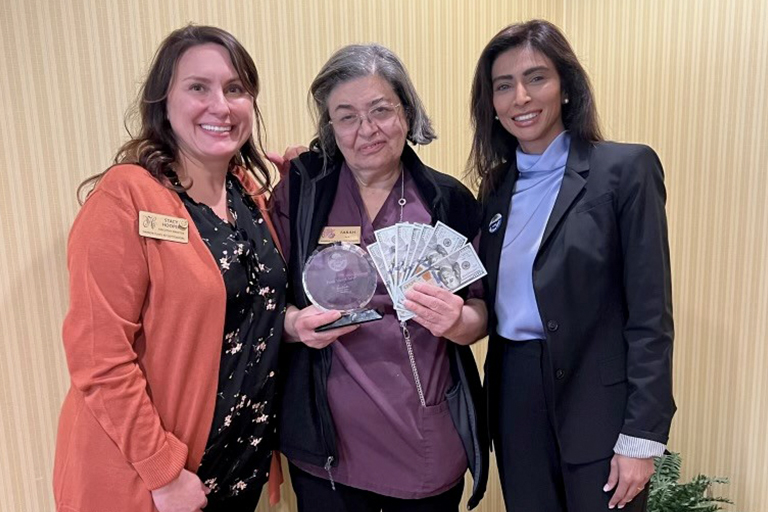 We are so excited to announce Farah Sharifi Saber, Resident Assistant and Care Aid at Harbor Place at Cottesmore, the Going the Extra Mile (GEM) company-wide winner for 2022. She was named the community's annual winner in January, 2023.
Farah has worked at Harbor Place at Cottesmore since 2006. She puts in extra hours and works extra shifts. She works every weekend and volunteers to work every holiday so her co-workers can be off with their families. She always goes the extra mile clearing dishes in the dining room, helping housekeeping with laundry and checking the schedule to ensure there is coverage.
Families and residents share how much they love Farah; many times through the years, spending her own time sitting next to a dying resident to make sure they were not alone. "Farah is a special person, and we are beyond thankful for her service. Many times, I have told Farah that she has saved me," states Executive Director, Stacy Hooper. "She is on of the most dependable hardworking people I know."
Farah was born in Iran and came to the United States in 2001. She lives with her brother and his family and loves her two nieces as they were her own. Farah states she is bored when she is not at work.
Thank you, Farah, for your dedication to the residents, families and fellow associates at Harbor Place at Cottesmore! You embody the Century Park values of community, service and excellence.
Congratulations!