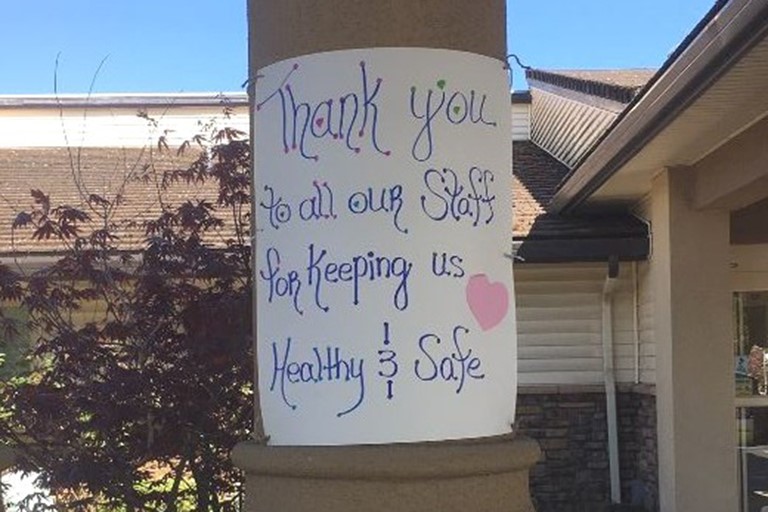 During these challenging times, Century Park is daily choosing faith over fear! While we have been mandated to implement social distancing of residents, to protect them from COVID-19, we are still working hard to do the things that CPA CAN! Our amazing associates have the strength needed to help our residents and families navigate through this challenging time. While this virus threatens the physical health of the senior population, social isolation and depression can easily become a larger concern. With this knowledge, our teams have created many positive things to shine light through this unprecedented time. Our associates and residents are discovering talents that they never knew they had, and we are all learning that we can do things that we never believed possible. Lifestyle teams have formulated the same philosophy as the little engine that could, and every day they are scaling new challenges with the attitude, "I think I can, I think I can."
Below are some of the brilliant activity suggestions that our teams have shared. (Sanitary precautions, social distancing and limited participants are being followed)
Try these with your loved one:
"Happy Hour Cart" is taken door to door filled with beverages and treats.
iPads are used to create photo booths for the residents.
iPads are used to create walking tours of the buildings.
Zoom classes and Ted Talks are being offered.
Face potpourri and coffee chat is held in the hallways (with the appropriate amount participants and social distancing) with chairs placed outside the apartments. Discussion topics include history, scriptures, new words and good news stories- just to name a few
Tic-Tac-Toe boards are on the windows so the residents can play on one side and their grandchildren/ family can play on the other side.
Children from local schools write letters to the residents and include pictures, jokes and poems.
Local church representatives are invited into the parking lot for music and ministry
We have hallway sing-a-longs.
We have Crazy Hair Day with a prize for the winner.
Residents and staff share prayer requests for everyone.
Residents make and decorate fun masks.
The staff (as much as regulations allow) do nails and hair while salons are closed.
We welcome and are daily coming up with new and fabulous ideas to go the extra mile to serve our residents. Follow our social media channels to be in on all the fun! We will get through this together and better.
Always remember, CPA CAN!
Rita Hood, Area Director and Jackie Enlow, Executive Assistant of Operations