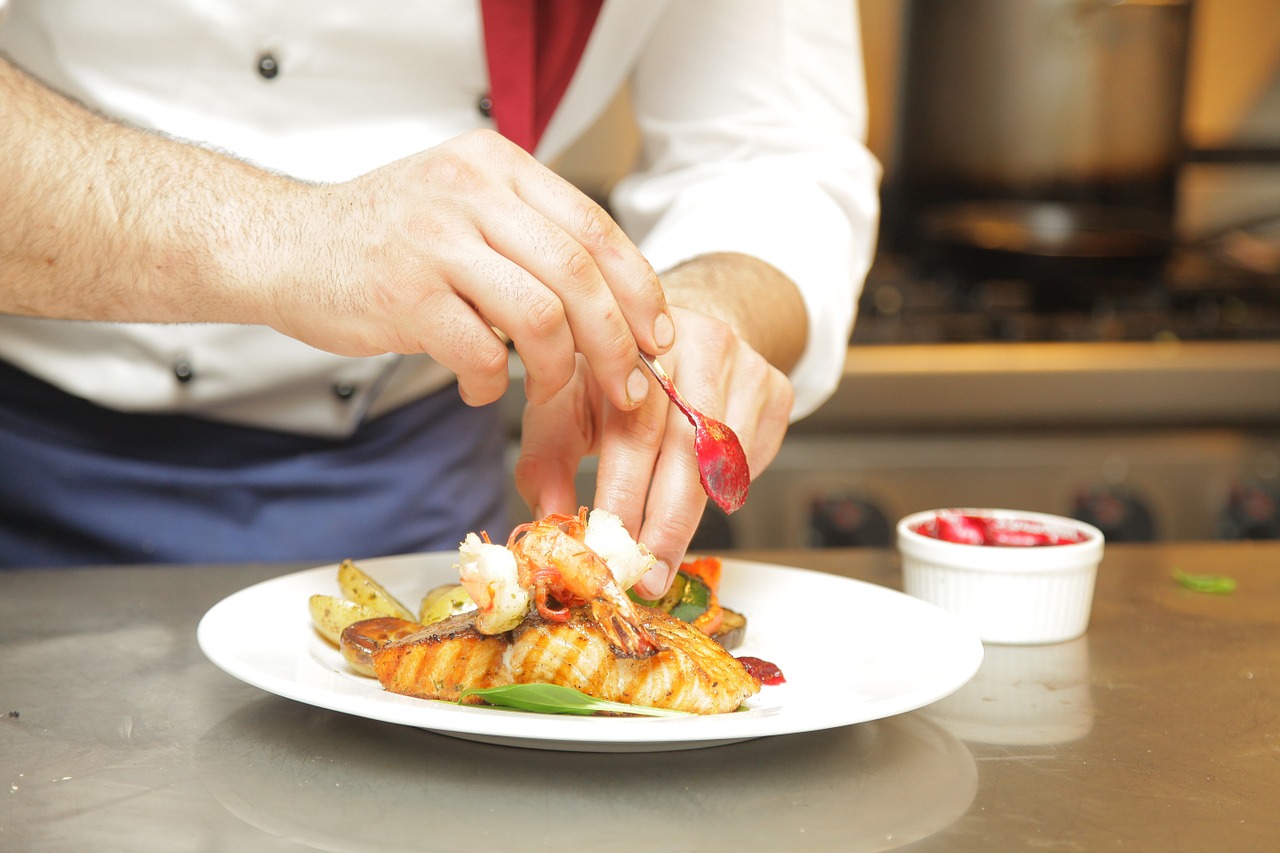 At Century Park, we pride ourselves on having wonderful dining services at all of our communities. The residents love the amazing meals they are offered. We wouldn't be able to provide this delicious food without the help of our wonderful chefs. For International Chefs Day, we want to honor some of the wonderful men and women on our dining services teams throughout our communities.
Azemina Lelo, dining services director at Highland Cove Retirement Community in Salt Lake City, Utah
After an education and career in accounting, a long set of journeys set off by the civil war in Bosnia and Hercegovina starting in the early 1990s, stops in Croatia, Germany and a final destination in the United States, Azemina decided to pursue what was once just a passion as a career: the culinary arts. Her passion for cooking and drive to serve others lead her to Highland Cove and earning certifications in the culinary arts, starting in 1998. More than two decades later, she is now more passionate than ever to continue delivering the highest standard of quality food to the residents.
In addition to her professional career, Azemina is a wife to a loving husband, mother to two hard-working sons and grandmother to a beautiful little girl. Azemina is eager and driven by the opportunity to serve in the best capacity possible in helping improve the quality of service Century Park provides to the beloved residents.
Bradley Johnson, executive chef and dining services director at The Bridge at Colorado Springs, Colorado
Bradley grew up in Albuquerque, New Mexico, a city rich in history and food culture. This inspired the start of his cooking journey at the age of 2. Bradley later moved to Colorado to pursue professional degrees and a long-term hospitality career. He graduated from the Art Institute of Colorado in Denver with a Bachelor of Science in Culinary Arts and a Bachelor of Arts in Food and Beverage Management and as an Alpha Beta Kappa Honors Recipient. He has spent the last 15 years working in a wide variety of fine dinning restaurants, wine bars, eclectic local restaurants and country clubs before starting in senior living.
Bradley and his wife, Lauren, reside in Colorado Springs. Bradley is an avid wine collector and car enthusiast. He and his wife are currently foster parents for the State of Colorado. His passion lies in family, food, hospitality and people-centered service and care. One of his favorite personal mottos is, "Come, let us gather," because he believes that an open heart and a big plate are the key to maintaining relationships and enjoying fellowship with one another. His passion for senior living came from some of his close family who resided in assisted living and memory care facilities.
Kathy Freuden, dining services director at The Bridge at Farmington, New Mexico
Kathy never attend cooking school; mostly because she has been cooking her whole life. When she was 10 years old, her mom had a car accident and was paralyzed. It was then that Kathy had to take over the family cooking. Learning from trial and error and discovering how food and a good meal can make people feel, cooking quickly became her passion. Years later, she started her own catering business and became a personal chef for an artist. Kathy started looking for a job that wasn't as stressful but yet rewarding. She had a friend who worked at The Bridge, and it was the perfect fit. Kathy is very popular on Sundays for her famous breakfast burritos and blueberry scones. It's a highlight of the residents' week. Kathy strives to find dishes that will be new and interesting to the residents. She loves spending time with the residents, finding out what they like to eat and sharing recipes. She always wants to make dining a pleasurable and satisfying experience.
Matt Hale, dining services director at Garden Plaza of Post Falls, Idaho
Matt has been in the culinary field for over 30 years. He worked his way through college as a dishwasher and then became a cook after graduation. He was with a large, privately owned restaurant corporation called Anthony's out of Seattle. Anthony's doubled in size the 14 years Matt was with them, giving him the opportunity to create new dishes, help design kitchens and open new restaurants. While at Anthony's, Matt went to the Culinary Institute of America at Greystone for World of Flavors Conference in 2001 and 2005. This cemented his passion for great food and bringing the extraordinary out of the ordinary. Since then, he has worked for a number of companies from Restaurants Unlimited to Nordstrom to Aramark at Fairchild Air Force Base.
Throughout his career, Matt has found that he loves to inspire and teach others, such as showing a new manager how to organize their team to create a better workflow, showing a dishwasher how to organize or showing a host how to set the stage for residents to have an outstanding dining experience. Inspiring his team to execute flawless service and teaching them the value of what they have to contribute drives Matt every day.
Wes Orr, chef at The Bridge at Ooltewah, Tennessee
Wes showed interest in cooking at a young age. By the time he was in high school, he was taking food service classes and training for cooking competitions to earn scholarships for culinary school. After competing at the state level and earning scholarships, he continued his education at Johnson & Wales University Charleston, South Carolina. Matt's three years in Charleston were spent in several restaurants and hotels learning under different chefs. Mills House Hotel, Charleston Place and 82 Queen to name a few. His cooking roots are deep in low-country cuisine and still present in his dishes today. After his time in Charleston, he moved back to the Chattanooga area and worked as a sous chef for one of Chattanooga's leading restaurants, 212 Market. He spent eight years there, working both on-site and doing city events and catering. In 2014, he joined Century Park and found a love for caring for seniors.
Wes wants to give back to those who have paved the road for us. He is proud to bring his experience to the kitchen for the residents and teach those around him.
"We all have a plan laid out for us," said Wes. "Some of us know it and pursue it early in life, others find their way through many experiences and trials. I know I am where I need to be. This is what drives me forward!"
Marvin Carter, dining services director at The Bridge at Cherry Hill in Johnston, Rhode Island
Marvin pursued a degree in accounting from Northeastern University but quickly realized sitting in a cubical wasn't the job for him. He attended Johnson & Wales University to pursue his true passion: food! He graduated cum laude with an associate's degree in culinary arts and returned to earn his bachelor's degree in entrepreneurship.
What started as a college project, turned into a successful online grocery delivery service that had gross sales of $1.2 million and was serving over 200 homes in greater Rhode Island and southern Massachusetts. Marvin has owned several restaurants from fine dining to a bar and grill. He currently owns Carter's Catering, as well as a tile company.
Marvin has two daughters: Isabella who is a freshman at the University of Rhode Island, and Gianna who is in the 8th grade at Immaculate Conception Catholic Regional. Marvin loves what he does. He has been at The Bridge for nearly 12 years. He enjoys taking care of the residents and meeting their culinary needs!
Michelle Gurbal, dining services director at The Bridge at Charleston, South Caroline
Michelle got her degree in architecture from Penn State University and was nominated Non-Traditional Student of the Year from the Governor of Pennsylvania. She designed custom homes, sports medical facilities, hospital wings and even designed a lot of State government buildings. However, cooking was her true passion, so she had a catering business on the side. She has been cooking since she was seven years old. When the housing market fell in 2008, Michelle had to close her business. Fortunately, she was offered an executive chef position the next week. She no longer has a catering business anymore, but she does make custom wedding cakes and other outrageous cakes.
Michelle has two grown children, Shaina and Joshua. She lives in beautiful Charleston, South Carolina. Food brings family and friends together. When people gather, they laugh and make memories. The smiles and laughter of loved ones, the memories both new and reminiscing of old, that is what inspires her. Making this happen for the residents is what keeps her going. She loves bringing joy to their lives every day.
Steve Gatlin, dinning services director at Garden Plaza at Cleveland, Tennessee
Steve graduated at the top of his class from the Opryland Hotel Culinary Institute and Volunteer State Associate of Science (A.S.) with a focus on culinary arts and ACF Certification Culinary Arts/Chef Training. After graduation, he joined Lundy's Sports Catering, cooking for Indy drivers, horse jockeys and professional golfers. He toured the U.S. and Canada, working for some of the top chefs and got a world of knowledge from this experience. He went on to join Tomkats Catering out of Nashville and catered to just about all the top country music stars and rock stars during the '90s and toured the country again catering to movie sets. A few years later, Steve opened he own café and catering business called Adventures in Taste. He moved to Chattanooga in 2011 with his wife, April. He worked for Ruth's Chris Steakhouse as the executive sous chef over all private parties and banquet events. After spending some time at Ruth's Chris, he was recruited by The Read House Hotel as the executive chef. The Read House closed for renovation, so he became the executive chef of Covenant College on Lookout Mountain until he came to Garden Plaza as the dining services director and executive chef.
Steve has four wonderful children and currently lives in Ooltewah, Tennessee.
He loves getting all the heart felt thank you comments from the residents. Knowing that he is working for a company that not only says they have Christian values but demonstrates daily that this is true, is a true passion for him.
Zynthia Rahymes, dining services director at The Bridge at Orlando, Florida
Zynthia pursued a career in food and nutrition where she earned her certificate in Food Management and Dietary Managers Training. From there, she graduated from Columbia College in 2016, earning a bachelor's degree in criminal justice. Her professional experience includes serving her community as a probation officer for several years and working as a food and nutrition manager in several independent and skilled nursing facilities.
When not working, Zynthia promotes the fight against childhood cancer by volunteering with Kids Beating Cancer. Her teenage daughter is a cancer survivor. She lives in Groveland, Florida, with her two daughters, Ravin and Kaylon. She feels blessed to be able to use her skills to serve the residents. Her passion is to always make a difference in the world and working at The Bridge gives her the opportunity each day to do so.
Mary Kay McManigal, dining services director, Remington Heights Retirement Community in Omaha, Nebraska
Mary Kay graduated with honors from the Culinary Arts Program at MCC in Omaha, Nebraska, and was a member of the Phi Theta Kappa International Honors Society. She began working at Remington Heights in 2002 and transitioned from assistant director to director of dining services in 2005. She left Remington Heights in 2013 to help open Country House, a brand-new memory care community in Omaha, where she served as dining services director. She returned to her role as director of dining services at Remington Heights in 2015. Remington Heights is more than just a career – it is family to Mary Kay. Her father has been a resident of Remington Heights since 2016. Her daughter, Jaylyn, has always been a welcomed face at Remington, taking part in community events and visiting with residents.
Family is very important to Mary Kay, and that is what Remington Heights is about. She has always been nurturing by nature, and her sense of responsibility and compassion for the residents is apparent in her work ethic. She sees each resident as an extension of her family, and this what inspires her to keep doing the work that she does.