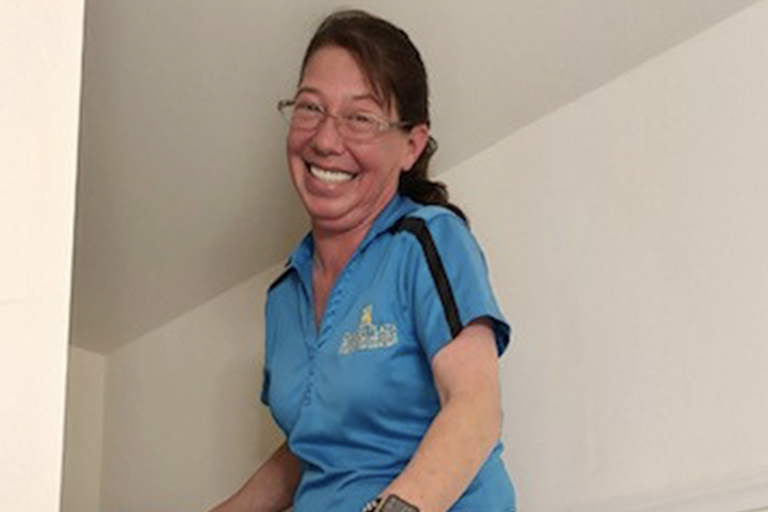 Family is defined as a group of people related either by birth or by marriage or by choice. The purpose of family is to maintain the wellbeing of its members. Ideally, families offer structure and safety as members nurture and learn to participate in community. All associates and residents make up the Century Park (CPA) family. Every month each CPA community selects a GEM (Going the Extra Mile) winner. Someone who goes above and beyond and executes the second mile principle.
This month, we're honoring Sherrie Viar, lead housekeeper for Garden Plaza of Greenbriar Cove. She sets the best example for her team and those around her on what true servant leadership looks like. "Sherrie is very dedicated to the residents and is willing to do anything for them", said her supervisor, Eric Tinkham. "Sherrie is known as someone who will jump in and help in any situation. Her priority is the residents, and she is willing to do anything for their wellbeing. She works extremely hard and takes so much pride in every task she accomplishes, even the most unpleasant ones. Sherrie's hands and heart leave Garden Plaza a spotless and beautiful place every day she serves." Sherrie was nominated by Jennifer Strong and Eric Tinkham for her recent work with a resident who had a unique situation and need that many would have turned away from, but this associate gladly stepped up to assist. Spending hours cleaning an apartment, helping the resident in need.
Sherrie has been with Garden Plaza of Greenbriar Cove for two years.
Thank you, Sherrie, for going the extra mile in so many ways! We are so grateful to have you on the team!