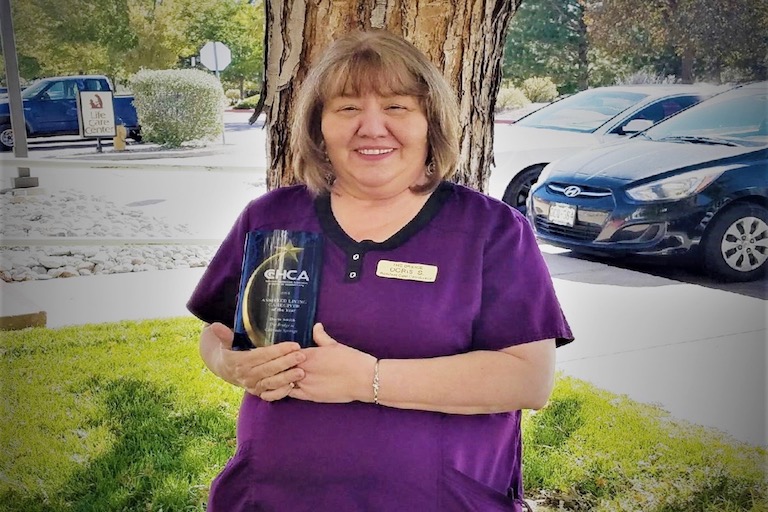 On Sept. 27, 2018, Doris Smith, resident care coordinator at The Bridge at Colorado Springs, won the Colorado Health Care Association's Caregiver of the Year Award.
The award was bestowed at the CHCA annual conference, held in Denver.
Doris has worked at The Bridge for nine years. She worked as a registered nurse in Germany from 1984 until she came to the United States in 2002. She is a qualified medication administration person (QMAP) here in America.
"I worked in different specialties while practicing in Germany but decided to start working with the senior population when I moved to the U.S.," Doris shared. "This was the best decision I could've made as I thoroughly enjoy working with seniors. I feel that I truly make a difference in their lives on a daily basis."
Jennifer McElhaney, acting executive director at The Bridge, nominated Doris for her clear love for the residents, from giving them hugs daily to taking the initiative to provide for residents' needs before they ask. Jennifer also praised her calm demeanor, excellent communication and training skills. For example, Doris created a simple and straightforward task list for care staff.
"I truly do not think we can say enough positive things about Doris," said Jennifer. "She's one of a kind."
Several other associates attended the banquet with Doris to show their support: Patricia Fairley, resident care coordinator; Cindy Howard, lifestyles director; and Tristen Morgan, housekeeper.