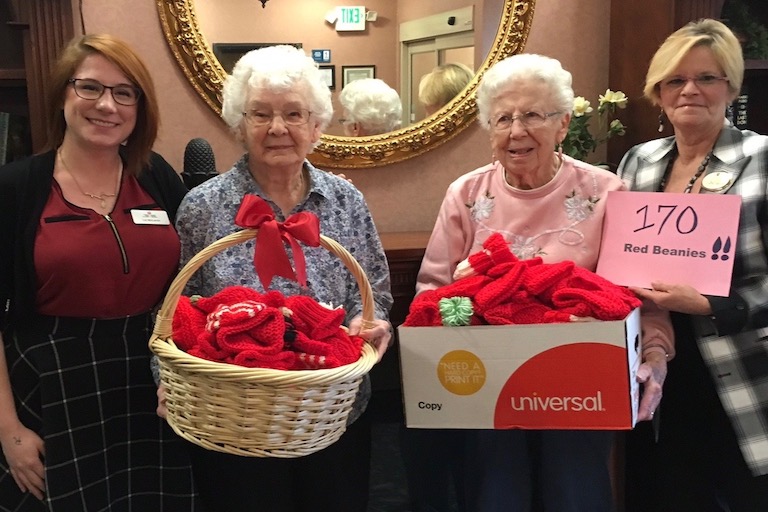 Five sweet ladies from Cascade Park turned their passion into purpose when they decided to knit and crochet baby hats to promote both heart health and shaken baby awareness.
Together, the women made 300 tiny, red beanies in honor of the American Heart Association's "Little Hats, Big Hearts" program. But they didn't stop there. They doubled their goal and made 600 purple beanies dedicated to Shaken Baby Awareness through the Click for Babies program.
Lifestyles Coordinator Kathleen Knupp put the project together when she and a few ladies at the facility discovered they all shared a love for knitting and crocheting.
"This is my first year here at Cascade Park," said Kathleen. "I enjoy crocheting, and when the ladies found out, we just ran with it."
Cascade Park residents Verian Henderson, Lucile Chappelle, Gin Johnson and Grace – a friend of Verian who does not live at the facility, but visits often – make up this charitable group of ladies.
"I learned at a very early age how to crochet, and when I started working here I got the Ladies busy crocheting and knitting," said Kathleen. "I like to give the residents plenty of activities to keep them busy, so when I noticed the "Little Hats, Big Hearts" foundation on my computer, I asked them if they were interested in participating. We set a goal of 300 beanies, and went way over that!"
Volunteers across the country, just like these ladies, are helping the American Heart Association by knitting and crocheting these little red hats for babies born in February in celebration of American Heart Month. Through this effort, they are raising awareness for congenital heart defects and what we can all do to help prevent them. According to the American Heart Association, the program has now impacted hundreds of thousands of babies across more than 40 states with beanies.
The Click for Babies program is another awareness campaign making waves across the country. Volunteers are knitting and crocheting precious purple caps to serve as a reminder to caregivers about the "period of purple crying" that all infants go through and how to respond appropriately – never shaking your child – in an effort to prevent Shaken Baby Syndrome.
"I had a big basket out in our lobby so that when we finished making a beanie, we would put it in the basket," said Kathleen. "The families of our residents would come in and just be amazed. I would do this again, and I'm sure the ladies would agree."