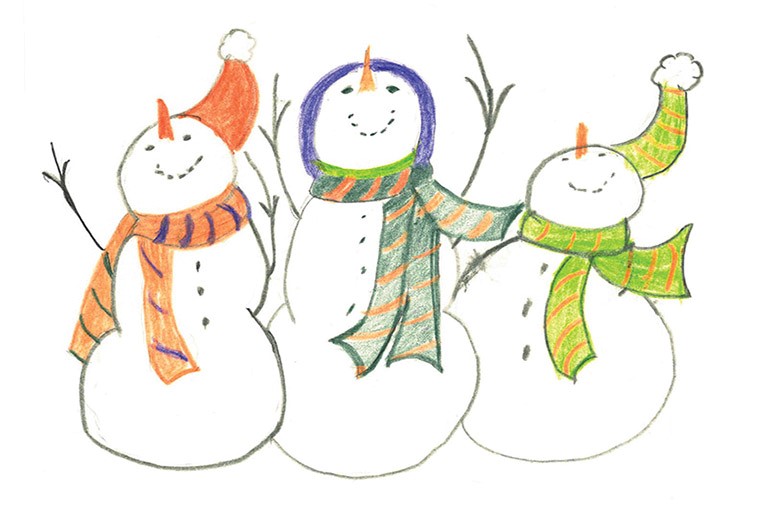 Each year, Century Park Associates invites residents in its communities to submit Christmas card designs. A total of four designs are printed and distributed throughout Century Park.
Meet our 2019 winners:
Jean Sheldon, a resident at The Abbewood, in Elyria, Ohio.
About her entry, Jean added, "I've always loved snowmen. I always liked building them and dressing them up. I would do it with my kids and grandkids. The last snowman I made was at my condo, right before I moved to The Abbewood. I made him out in the front yard so all could see, and I didn't know if I could get the third round ball at the top for his head, but I did. I was 81 years old when I did that."
June Hamm, a resident at The Inn at Garden Plaza in Colorado Springs, Colorado.
"I was inspired by the beauty of nature and my time in Indiana and here in Colorado," said June. "I put Pikes Peak in the background."
Originally from Northern Indiana, June fell in love with art when she was just 4. She took art classes as a young adult, and over the years, her talent and passion has continued to grow. When she moved into The Inn at Garden Plaza, she taught herself to use watercolor.
Bette Higgins, a resident at The Bridge at Ooltewah, Tennessee.
"I enjoy everything about art – the precision, the beauty, the relaxation and the joy it brings to others," Bette shared. "I love being able to share my love of art and colors with people. It keeps me young. It takes my worries away."
Originally from Ohio, Bette has spent most of her life in the Chattanooga area. She didn't get involved in art as a hobby until she was in her 70s. She has now completed more than 250 paintings, and she mainly paints pictures of homes after studying pictures of them.
Wally Williamson, a resident at The Bridge at Inverrary in Lauderhill, Florida.
"Christmas lights instantly make me feel like a little boy again," Wally shared.
Originally from Indiana, Wally and his family moved to Florida to get away from the snow. He worked as an emergency room doctor in his younger days, and his friends still lovingly call him Doc Wally. Today, he enjoys singing, playing bingo and socializing with friends.