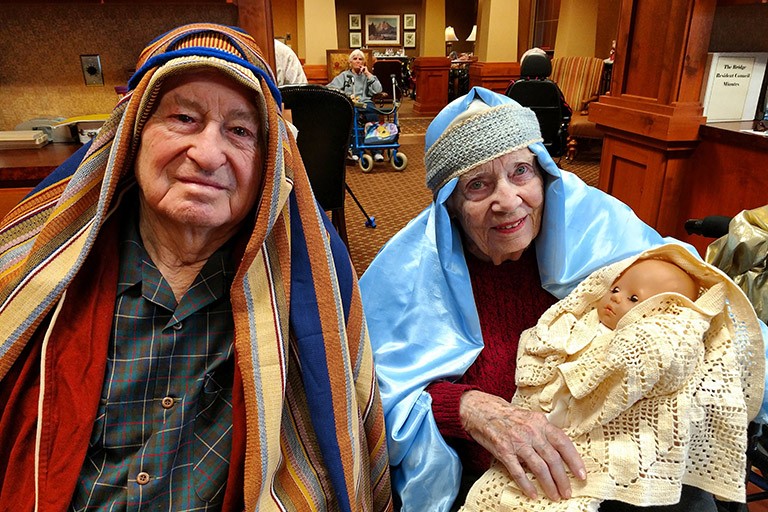 Our communities celebrated the most wonderful time of the year in unique and creative ways. Century Park communities spread Christmas cheer by bringing family, friends and communities together with wonderful Christmas dinners, events and music.
Here are some of the highlights from our Century Park buildings who made Christmas special for our residents.
Mayfair Village in Columbus, Ohio, celebrated with a holiday dinner dance, and Christmas caroling with a local church. Residents and staff also collected canned goods and bottled water to deliver to a local food pantry.
The Bridge at Sandpoint in Idaho, hosted carolers from local schools throughout the month and invited families and friends for dessert and hot chocolate from the hot chocolate bar. Santa Claus also came, and The Bridge invited all the children in the community to visit.
The Bridge at Lawrenceville in Georgia, had a heap of activities for the holidays. Girl Scouts, Atlanta Christian Brethren Music Ministry and families came to sing Christmas carols. The Bridge held a door-decorating contest, and the grand prize was a holiday bathroom makeover. Santa and Mrs. Claus came for brunch and took pictures with residents and staff. On Christmas Day, The Bridge hosted its annual Christmas bingo, and all of the residents received a Christmas gift.
Cherry Creek Retirement Village in Aurora, Colorado, presented Holiday Traditions Around the World. Residents learned that the traditions, cuisines and customs we have originated from different places around the globe.
Remington Heights in Omaha, Nebraska, celebrated Christmas with a pageant. They hosted a Christmas pageant depicting the story of the birth of Jesus along with hymns being sung and scripture being quoted.
The Bridge at Post Falls in Idaho, got into the holiday spirit with the Nativity, taking their residents on a journey to Bethlehem. Residents dressed up and portrayed the Nativity in the dining room. They sang Christmas carols while the characters "traveled". Families, friends and residents all enjoyed the Nativity, and some tears were even shed.
Garden Plaza at Cleveland in Tennessee, enjoyed the Christmas story. A local pastor came and read about the birth of Jesus to family, friends and residents. They also enjoyed delicious refreshments.
Garden Plaza of Aurora in Colorado, learned the history of Christmas carols. Residents learned the stories behind Christmas carols and sang along to their favorite Christmas songs while drinking hot cocoa and enjoying holiday treats.
Heatherwood Retirement Community in Honey Brook, Pennsylvania, held a Christmas movie matinee. Residents, families and staff enjoyed Christmas movies while eating delicious seasonal goodies.