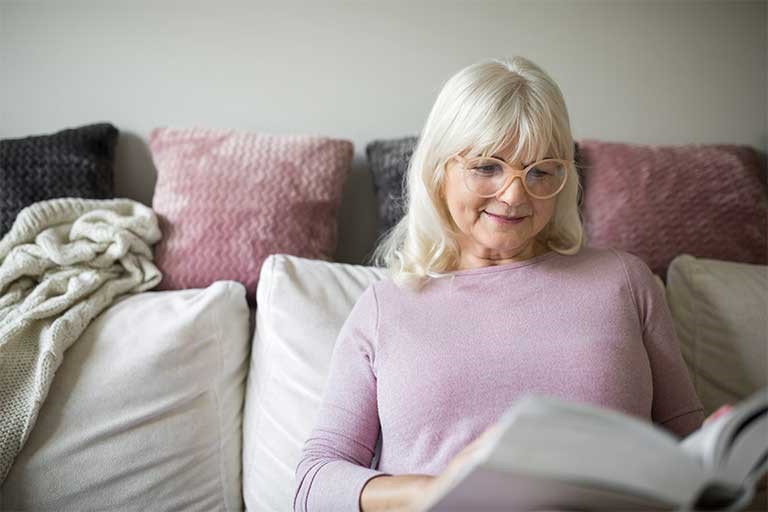 Depending on where you live, winter is often a time to stay indoors and pursue activities in the warmth of a cozy building.
Here are some ideas for how you can keep your body and brain active during these cold months. And since most of us spend too much time on our phones, all of these are cell phone-free!
Physical Activities
Many local gyms have senior programs, and if not, even just walking on a treadmill is a good alternative to walking outside. Using an elliptical or a stationary bicycle can also give you exercise with minimal joint impact. Oftentimes, gym equipment allows you to watch television while you work out. You can also bring a set of earbuds or headphones to listen to music or an audiobook.
Some gyms also offer indoor pools or classes like Zumba, cycling or yoga (for gentler exercise and stretches), and some have indoor sports leagues. These can be great alternatives to the main workout rooms. Some even have water exercise classes.
If you don't want to commit to a gym, many local malls allow community members to walk around inside.
At home, although it may not be the season for gardening, winter can be a great time for other physical activities, including deep cleaning. Sweeping, mopping, dusting, vacuuming and scrubbing all burn calories and help with muscle tone.
You can also try more traditional exercises at home, such as walking up and down the stairs more frequently, walking from one end of the house to another on a loop or even getting up and walking around the house while talking to friends and family on the phone. Try doing stretches on the floor or on your bed, and depending on your level of fitness, you could also try simple exercises like squats in your living room.
Mental Exercises
Maybe winter is the time to bring out some of your favorite old hobbies.
If you are good with your hands and have a sense of style, crafts are always fun. Crocheting, sewing, woodworking, whittling and wreath-making are just some ideas. If you have grandchildren, getting them involved with you in crafts gives you both something fun to do to build good memories of family. You can even research kids' crafts online for new ideas.
Art is another fun hobby you can use to bring out your creative side. Try your hand at painting or drawing, or, if you prefer, coloring. Coloring books for adults have been trendy for the last few years, so there is no shortage of variety if you want to color. Art can help with relaxation in addition to creativity.
Of course, there's something to be said for an afternoon reclined on the couch with a good book and a cup of hot cocoa, too. You can go so many different places through fiction without ever leaving your house, and if non-fiction is your preference, you can learn new things and expand your knowledge base.
So Much Variety
All these things are just the tip of the iceberg – there's so much you can do indoors! Here are a few other suggestions.
Watch a movie with friends.
Host a game night with friends or family.
Practice a musical instrument.
Put together a jigsaw puzzle.
Catch up with old friends on the phone.
Cook or bake something new.
While you're staying inside, there's no reason to be bored. Enjoy some of these warm activities, and let the winter fly by!