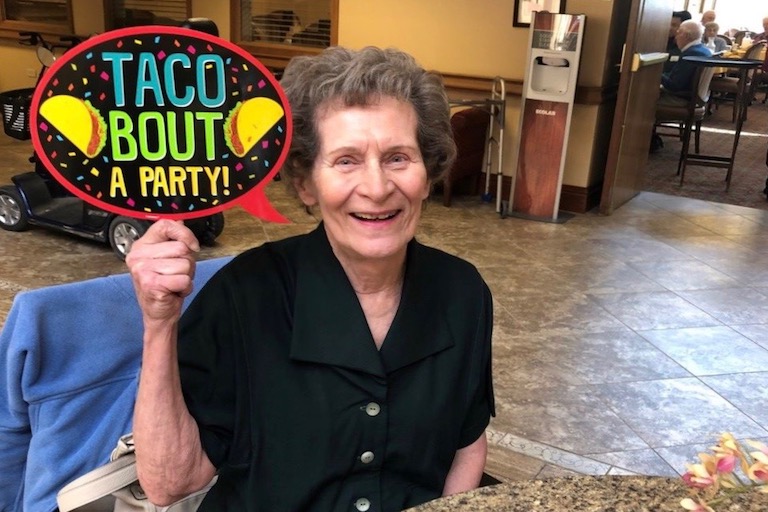 In 2019, Century Park communities all over the country will be celebrating various national food days each month. Residents and associates will take part in preparing and enjoying comfort foods to promote friendship and creativity. Many communities will host events for the public so that individuals in their area can join in on the delicious fun!
This month, our communities celebrated National Crunch Taco Day on Monday, March 18.
"We had soft and crunchy tacos with chick or beef and rice and beans. We added Choco-Taoc's for dessert. That was our something special!" - Catherine Huhn, sales director at Cascade Park Retirement Community in Woodburn, Oregon

"I brought tacos, made by our very own kitchen over to Cherry Hill Manor for their associates in the admissions, social services and physical therapy departments. We had beef, chicken and fish tacos." - Jen Burns, sales director at The Bridge at Cherry Hill in Johnston, Rhode Island

"We had a huge Open House. We had over 60 residents, professionals and potential residents join us for this event. It went great." - Shannon Dempsey, sales director at Cherry Creek Retirement Village in Aurora, Colorado

"We had a salsa cook-off for the public, associates and residents to all enjoy." - April Howard, sales director at Garden Plaza of Post Falls, Idaho

"Our event was a hit! Our residents and outside professionals had a great time making their tacos and looking festive in their sombreros. Ravelli's mariachi performance was sensational as well." - Michael Davis, lifestyles director at The Bridge at Orlando, Florida

"We had a networking luncheon and served crunchy beef and chicken tacos. We gave out taco coin purses and filled them with peppermint patties that said "You were MINT to live here!" Everyone loved the gifts and the lunch." - Debbie Fentiman, sales director at The Bridge at Farmington, New Mexico
Take a look at the gallery below to view photos of our residents and associates celebrating National Crunchy Taco Day!