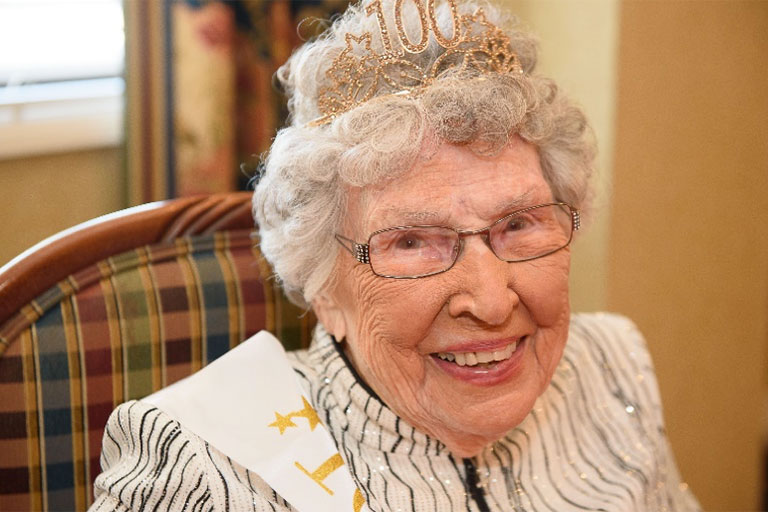 Do you realize only 1 in 10,000 people live to be 100 years old? As I'm in my mid 60s, I wondered what is at the core of living to be 100. I set out on a mission to explore the number of centenarians currently living in Century Park's 42 communities. Much to my surprise, we have the honor of caring for 43 centenarians.
There's Mr. Carl Miller. He turned 100 this year! When asked his secret to getting to the magic age of 100, he said, "God!" and I must agree.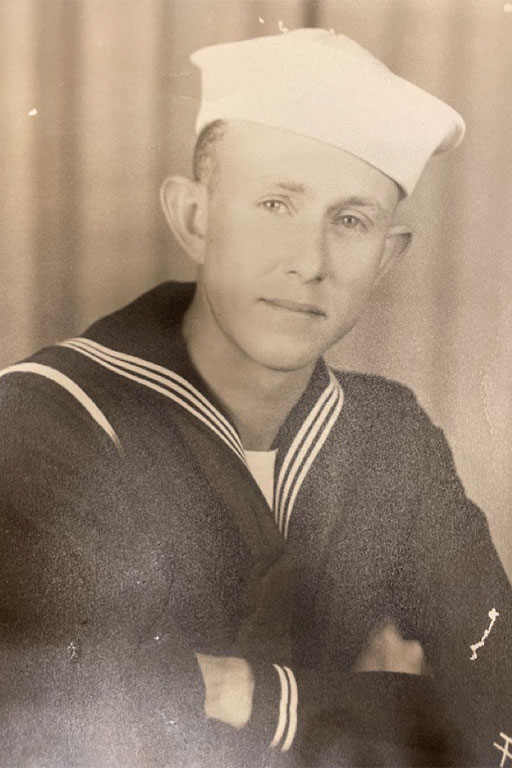 Dorothy Kelly turned 105 last month. When asked what she attributes her longevity to, she smiled her playful smile and said, "The Lord. ... I don't know why I have lived this long, but I guess He has a reason for it."
As I reflect on the things these 43 sets of eyes have seen and ears have heard, I am astounded. Here are but a few of the major events that happened 100 years ago in 1921:
The United States Congress approved the burial of an unidentified soldier from World War I at Arlington National Cemetery. The inscription on the tomb reads, "Here rests in honored glory an American soldier known but to God." The tomb has been under the guard of the military since 1926. U.S. Army soldiers act as Tomb Guards in what is considered one of the most honored positions to have in the Army. The role includes strictly outlined duties and ceremonial procedures.
New York Yankees pitcher Babe Ruth hit his 138th homerun, and the Yankees made their first World Series appearance.
Charles Bronson, Nancy Reagan and John Glenn were all born.
Coco Chanel introduced her famous "Chanel No. 5" fragrance.
A portable bathtub and water heater could be purchased for $41.85.
Jazz was the music of popular choice, and led by lauded jazz musicians that included Duke Ellington and Al Jolson. Another popular musician/composer was George Gershwin. Many of his songs are still recorded and listened to today.
A popular dance of the times was the Charleston.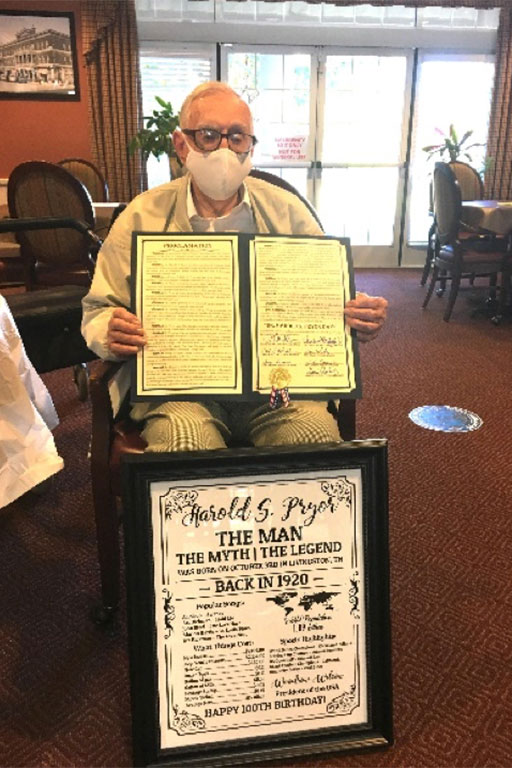 Often, I wonder what our centenarians' thoughts were on the invention of motorized automobiles, television, airplane travel, computers, cell phones, movie theatres, telemedicine and online voting. The talent they have seen and heard in the last 100 years: such stars as Clark Gable, Doris Day, Boggy, Katherine Hepburn and the magical sounds of Nat King Cole, Celine Dion, Whitney Huston, the amazing Tony Bennett and, of course, the Rat Pack - Frank Sinatra, Dean Martin, Joey Bishop, Sammy Davis Jr. and Peter Lawford.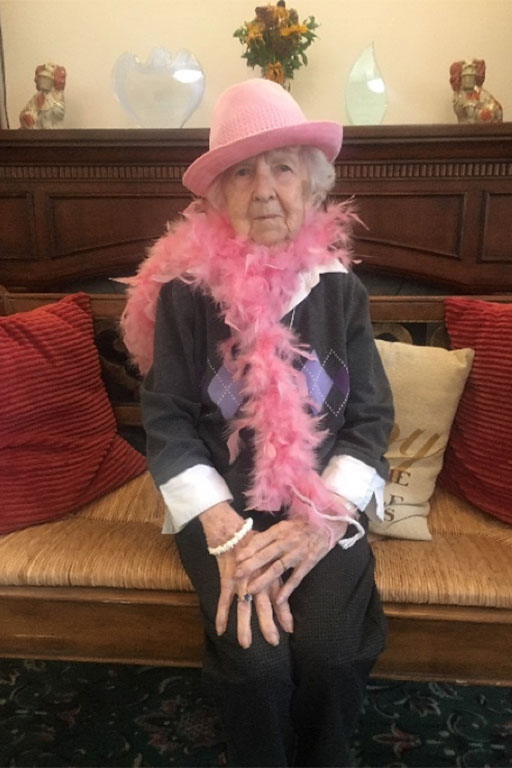 It's an honor and privilege for Century Park associates to care for our residents who are 100+ years of age. I trust that once they're in bed at night, they hum the following:
I see trees of green
Red roses too
I see them bloom
For me and you
And I think to myself
What a wonderful world!
Century Park Associates 2021 Centenarians
Virginia Smith, 100, The Bridge at Ooltewah
Jenieve Peek , 102, The Bridge at Ooltewah
Dorothy Dolce, 101, The Bridge at Hickory Woods
Jane Vailes, 106, The Bridge at Hickory Woods
Norman Barnard , 102, Garden Plaza at Cleveland
Mildred Callaway, 102, Garden Plaza at Cleveland
Bettie Cooke, 100, Garden Plaza at Cleveland
Carl Miller, 100, Garden Plaza of Post Falls
Babette Gilbert, 100, Garden Plaza of Post Falls
Dorothy Kell, 105, Garden Plaza of Post Falls
Freda Catalano, 102, Garden Plaza of Post Falls
Thelma Stoner, 105, Westside Garden Plaza
Ruby Mitchell, 101, Westside Garden Plaza
Charlotte Horner, 100, Westside Garden Plaza
Lucile Chapelle, 105, Cascade Park
Bernice McBride, 104, Cascade Park
Verian Henderson, 100, Cascade Park
Bertha Kenagy, 100, Cascade Park
Elvi Allen, 100, The Bridge at Lake Pointe Landing
Marjorie Bassing, 104, The Bridge at Lake Pointe Landing
Edith Eskenasy, 100, The Bridge at Lake Pointe Landing
Jimmie Lee Hallford, 101, The Bridge at Lake Pointe Landing
James Levi, 100, The Bridge at Lake Pointe Landing
Darrell Watson, 100, The Bridge at Lake Pointe Landing
Bonnie Wright, 100, The Bridge at Lake Pointe Landing
Dr. Harold Pryor, 100, The Bridge at Columbia
Harriet Glasgow, 104, The Bridge at Alamosa
Grace Helms, 100, The Bridge at Alamosa
Dorine Overton , 105, The Bridge at Mount Vernon
Laurence Rosa, 100, The Bridge at Mount Vernon
Myrtle McLean, 100, The Bridge at Mount Vernon
Carrie Drew, 103, Highland Cove
Athena Cairo, 100, Highland Cove
June Orme, 100, Highland Cove
Myrtle D'Evelyn, 100, Highland Cove
Ava Boegner, 103, The Bridge at Paradise Valley
Herbert Hahn, 101, Remington Heights
Liz Swiatek, 102, Remington Heights
John Carlson, 100, Remington Heights
Marjory Thatcher, 105, Bridgeview Estates
Betty Evans, 100, Bridgeview Estates
Vira Amende, 100, Bridgeview Estates
George Lee, 100, Bridgeview Estates