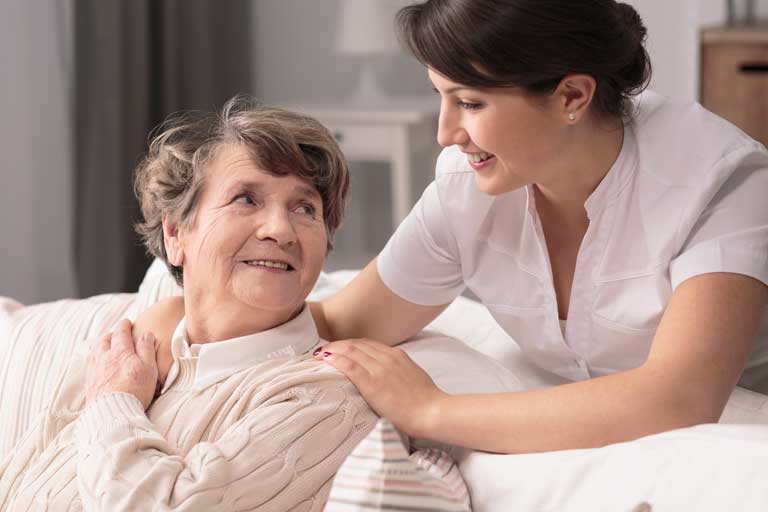 May is here, and that means Better Hearing and Speech Month! It's an opportunity to raise awareness of communication disorders and the treatments that are available to help you or your loved one(s) stay connected.
What is speech-language pathology?
Speech-language pathology addresses speech and language disorders and social- and cognitive-communication disorders, as well as swallowing disorders, in people of all ages. It helps people with severe expressive and/or language comprehension disorders come up with alternate communication methods, such as learning to talk in different ways to suit the setting, learning and following rules of conversation and storytelling or learning sign language. It also helps people who have suffered a stroke or traumatic brain injury or who have dementia by teaching ways to organize thoughts, pay attention and/or improve memory.
Who are speech-language pathologists?
Speech-language pathologists, or speech therapists, are health care professionals who hold a minimum of a master's degree in their field. They not only study anatomy and physiology, but neuroanatomy, linguistics, psychology, acoustics and more. This background qualifies them to assess, diagnose and help prevent communication and swallowing disorders caused by illness, trauma or disease. Especially with older adults, SLPs are trained to differentiate between the natural aging process and problems with communicating or swallowing. SLPs often collaborate with other health care professionals to determine the best plan to help a patient recover.
"SLPs play an important role in helping physical and occupational therapists establish the most effective way for a patient to comprehend and process information," says Bethany Sattovia, speech-language pathologist at The Westchester House, a skilled nursing and rehab center in Chesterfield, Missouri. "This leads to much success, and patients are able to achieve the best possible outcomes."
When is speech therapy needed?
Anyone who has difficulty communi­cating or understanding language can benefit from speech therapy. It helps people who practice vocally strenuous activities, such as singing, speaking too much or too loudly or excessive cough­ing, by teaching exercises to strengthen the muscles used in speaking. People who have experienced a stroke, traumatic brain injury or have dementia or a degenerative disease, such as Parkinson's disease or Lou Gehrig's disease, will receive speech therapy to help them reach their maximum level of function in understanding, speaking, swallowing and/or memory retention.
Speech therapy can also teach new strategies to speak more clearly or find alternate methods of communi­cation, as well as help patients who have swallowing disorders, such as dysphagia, by helping them strengthen the muscles used in swallowing. Additionally, it can also help patients gain maximum level of independence with more advanced activities, such as community communication and problem-solving skills.
What happens during therapy?
Before therapy begins, SLPs take time to evaluate the patient's level of communication, and if the patient has problems with swallowing, they perform further evaluations to determine what is causing the problem. Once the SLP has determined the patient's level of ability, he or she will discuss recovery goals with the patient and his or her family to develop a treatment plan. Speech therapy sessions typically last one hour per day every three to seven days, depending on the patient's need.
Sessions may include mouth exercises, speaking activities, problem-solving training, safe swallowing exercises and neuromuscular electrical stimulation, a gentle electrical stimulation treatment used to increase swallow ability. Therapy can continue as long as the patient continues to make progress toward his or her goals, and progress is discussed in regularly scheduled care-plan meetings.
What happens after therapy?
A patient can graduate from speech therapy once he or she has met his or her recovery goals or has reached a maximum level of independence. Often, a home program for maintenance may be discussed before discontinuing therapy.
Ultimately, the goal of speech-language pathology is to help people stay connected despite their limitations by helping them prevent communication disorders, improve their current levels of communication or find alternate methods of communication.
Always consult your doctor before starting any new treatment, exercise program or diet. A health care professional will help you properly decide what kind of treatment will be most beneficial for your individual needs.