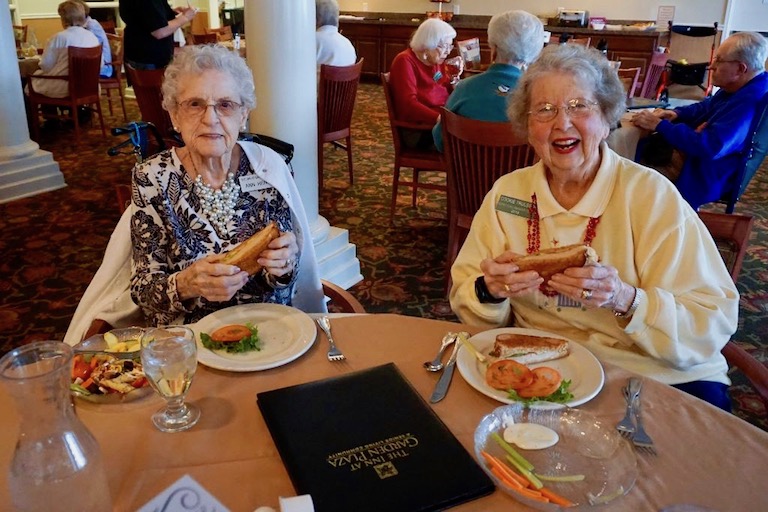 In 2019, Century Park communities all over the country will be celebrating various national food days each month. Residents and associates will take part in preparing and enjoying comfort foods to promote friendship and creativity. Many communities will host events for the public so that individuals in their area can join in on the delicious fun!
This month, our communities celebrated National Grilled Cheese Day on Friday, April 12.
"Everyone enjoyed their made-to-order gourmet grilled cheese sandwiches prepared by our Dining Services Director, Tasha! In addition to four different cheeses, people could also choose from more than a dozen additional ingredients!" - Eileen Smith, lifestyles director at The Bridge at Greeley, Colorado
"We had a creative take on National Grilled Cheese Day. We served a classic sandwich with American cheese and white bread. We also served grilled cheeses with brie, apple and pancetta on brioche, as well as turkey, avocado and swiss on Nine Grain. Great job Chef Jeff and team!" - Kimberly Elhoffer, sales director at The Inn at Garden Plaza in Colorado Springs, Colorado
"We had a fantastic National Grilled Cheese Day!" - Shannon Dempsey, sales director at Cherry Creek Retirement Village in Aurora, Colorado
"We featured a variety of grilled cheese sandwiches, from a plain-Jane Swiss on toasted wheat to the most popular smoked cheddar pimento cheese and bacon on sourdough." - Jill Day, executive director at The Bridge at Ooltewah, Tennessee
"We put our dining services director up against Life Care Center of Orlando's dining director! Our panel of judges and residents tasted all they had to offer. In the end, our dining director, Zynthia came out on top! Thanks to the judges and residents for coming out to root them on. We had a great time!" - Michael Davis, lifestyles director at The Bridge at Orlando, Florida
Take a look at the gallery below to view photos of our residents and associates celebrating National Grilled Cheese Day!