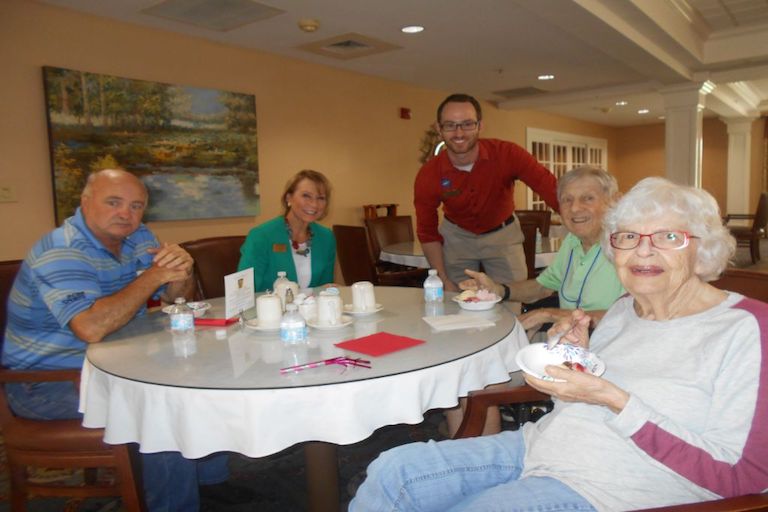 In 2019, Century Park communities all over the country will be celebrating various national food days each month. Residents and associates will take part in preparing and enjoying comfort foods to promote friendship and creativity. Many communities will host events for the public so that individuals in their area can join in on the delicious fun!
This month, our communities celebrated National Ice Cream Day on Sunday, July 21.
"Everyone enjoyed their choice of ice cream! In addition to the popular flavors: vanilla, chocolate and strawberry - residents also got to choose between banana split, strawberry cheesecake, and super cow flavors! We also enjoyed music with Susie Copeland. Did I mention our dietary staff is the best?"

- Chris Alley, lifestyles director at The Bridge at Lake Pointe Landing

"We celebrated with banana fosters during lunch and Klondike Bars during our entertainment with Steve Jade on the ivories. To top it off, we had banana splits with do it yourself toppings after dinner. Calories did not count today!"

- Twila Brannon, lifestyles director at Garden Plaza at Lawrenceville

"We treated guests to banana splits in celebration of National Ice Cream Day!"

- Erika Stewart, executive director at Harbor Place at Port St. Lucie, Florida

"We celebrated with cool treats, raffles and live entertainment!"

- Aaron Clayton, sales director at The Bridge at Inverrary

"We had a great time celebrating. Our toppings bar had something for everyone, including blueberries, pecans, chocolate chips and Oreos to name a few. One of our resident favorites, Andy Costantini provided fantastic entertainment during the ice cream social."

- Michael Davis, lifestyles director at The Bridge at Orlando
Take a look at the gallery below to view photos of our residents and associates celebrating National Ice Cream Day!