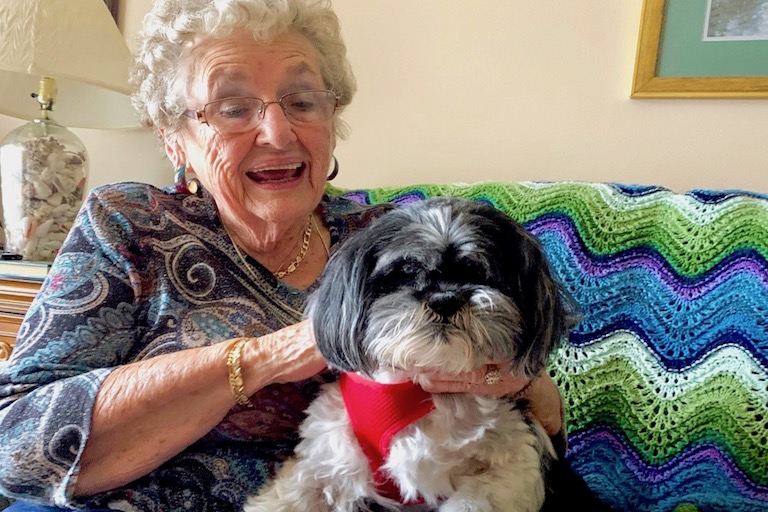 At Century Park, one thing is fur sure: We love our furry friends! In celebration of National Pet Day, we wanted to honor our loyal pals by sharing about how wonderful they are with the world! Here are some of our favorite fur-babies who have captured the hearts of Century Park communities across the country. They're more than just furry friends; to us, they're family!
"George and his fur buddy Baxter are best friends. Baxter will be 15 in June this year. When asked why Baxter is his best friend, George replied, 'Whether I'm sick or not, he sits by my feet. And if he gets sick, I take care of him. What more could you ask for?'"

– Shana Ison, lifestyles director at Andover Court in Andover, Kansas

"Tasha Bennett, our dining services director, got a new puppy and brought it to visit with the residents. Welcome to the family, Zanoni!"

– Eileen Smith, lifestyles director at The Bridge at Greeley, Colorado

"Here at Harbor Place, we have two beloved fur babies. Our resident, Al, loves his dog, Honey, because she is his lifetime companion. Our resident, Karen, also has a little pal named Molly. Molly has been Karen's best friend for 14 years, and she loves her so!"

– Mercedes Restituyo, lifestyles director at Harbor Place at Port St. Lucie, Florida

"We have a few pets we love here at The Bridge at Ooltewah. Buck belongs to resident Beverly Long. He brings happiness to the staff and residents with his cute face and loads of soft fur. Tucker, owned by resident Kim Smith, is a pet therapy dog. Tucker puts big smiles on our residents' faces, and they love to pet him and have him shake their hand. Finally, Coco is owned by resident Jean Smith. Coco brings joy to the residents and staff during games and ice cream socials. We love them all!"

– Lisa Johnson, lifestyles director at The Bridge at Ooltewah, Tennessee
Take a look at the gallery below to view photos of our residents with their beloved pals!