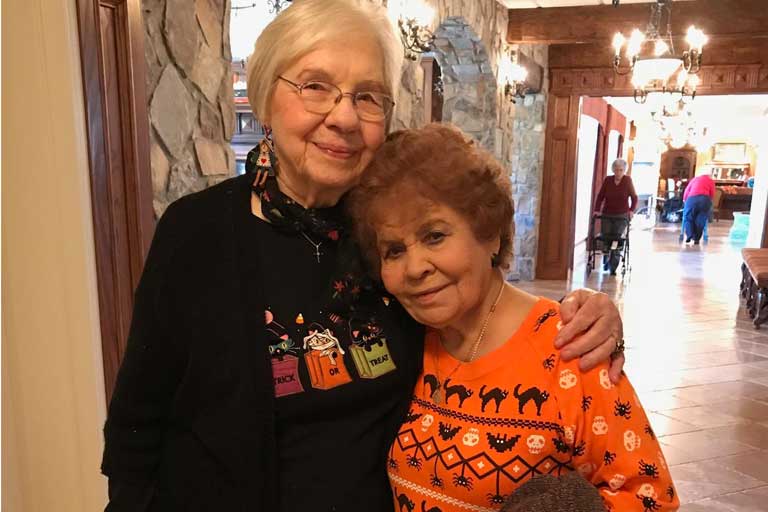 From trunk-or-treats to costume parties, our seniors went all out for Halloween.
Century Park residents and associates across the country enjoyed celebrating Halloween in our senior living communities with friends and family. Many reflected back on Halloween memories from years ago.
What was the best Halloween costume you ever wore?
"My favorite costume was a witch, not any ordinary witch, but one that led an army of little monsters. Every year at my elementary school, I would lead the Kindergarten, 1st, 2nd and 3rd graders through the entire building in our annual Halloween Costume Parade. It was one of my favorite responsibilities as a teacher." Carolyn Lancaster, Bridgeview Estates in Twin Falls, Idaho
"The time I sewed my own costume. I was a black cat, and I looked pretty frisky." Pat Holenstein, Heatherwood Retirement Community in Honey Brook, Pennsylvania
"Oh that's easy. I put on an old long dress that was my momma's with a black hat. I went to school with my daughter for a contest on who had the best costume. They thought I was one of the kids, and I got picked for the best outfit." Helen Satterfield, Garden Plaza at Cleveland, Tennessee
"When I dressed up as a tramp, ripped clothes and all." Bob Holenstein, Heatherwood Retirement Community in Honey Brook, Pennsylvania
"Uncle Sam." Warne Blackman, Harbor Place at Port St. Lucie, Florida
"My favorite costume was the year I dressed up as Miss Piggy. I had a blouse that came off my shoulders, a long black skirt, a blond curly wig and false eye lashes. I wore it when I took the children trick-or-treating. I wore the same outfit/costume to school when I taught 1st grade (the kids loved it). That evening I left my husband at home to give out candy. When the children rang the doorbell, he pressed a button that made a scary noise and scared the children. We saved candy that way." Martha Cummings, The Bridge at Ooltewah, Tennessee
"My girlfriend and I dressed up in whatever we could find." Maxine Friedly, Garden Plaza at Cleveland, Tennessee
"My friend and I dressed up. She was a criminally insane doctor, and I was her patient. She wore bloody scrubs, and I carried around my bloody severed head. It was a lot of fun!" Skipper Rathgeber, Heatherwood Retirement Community in Honey Brook, Pennsylvania
"Farm boy." Dan McCarthy, Harbor Place at Port St. Lucie, Florida
"A homemade Indian princess costume that my mom made me. I was a Campfire Girl, and my mom took a gunny sack to make the dress and sewed my Campfire Girl badges on the dress to display them." Jane Wilkinson, Remington Heights in Omaha, Nebraska